Agri-tech Strategy are blogging at Cereals 2015. Dina Patel from the Agri-tech Strategy is attending Cereals 2015 today (10th June) along with partner BBSRC, and the Agri-tech Organisation in UKTI. A few highlights of Cereals 2015 so far are shown below.
Wednesday 10th June
Dina Patel started by visiting the opening the HSBC Open Forums with DEFRA farming minister George Eustice and NFU president Meurig Raymond. The discussion touched on a number of topics, with George Eustice saying that there will be a future focus on a food and farming plan featuring agritech.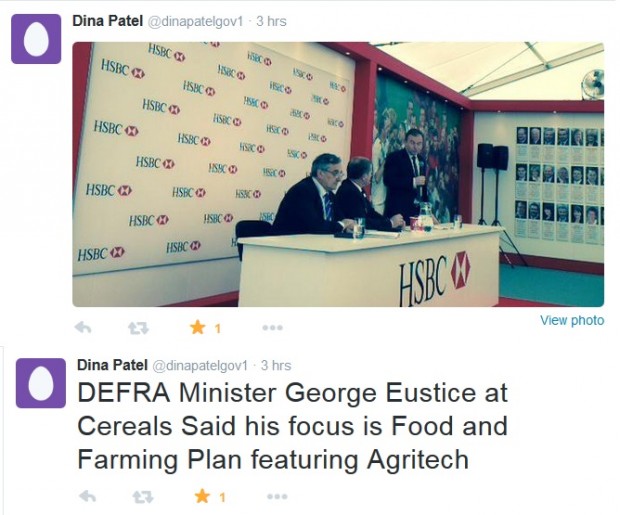 Farming Minister, George Eustice, visits the BBSRC plot at Cereals and talks to researchers from Rothamsted Research and the John Innes Centre about a range of agricultural research. This included: the use of unmanned aerial vehicles for monitoring crops, the role of natural variation in brassicas breeding, new near market discoveries for managing the wheat disease takeall, and the production of fish oils in crops for potential use in aquaculture and more widely.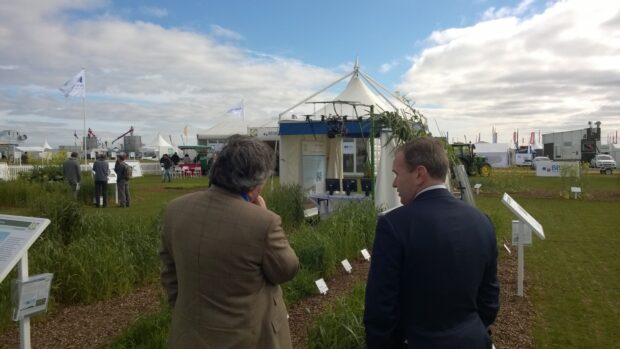 An excellent vine from Patrick Middleton showing stand 905, a collaboration between BBSRC, John Innes Centre, and Rothamsted Research.
BBSRC-HGCA Black-Grass Resistance Initiative held a meeting to update stakeholders on the progress of the £2.8M project. The multidisciplinary project is underway to study and combat herbicide resistance in black-grass using a wide range of techniques from molecular to field scales.
Visitors to Cereals can talk directly to the researchers involved on plot 905. For more details on the project here: http://bgri.info/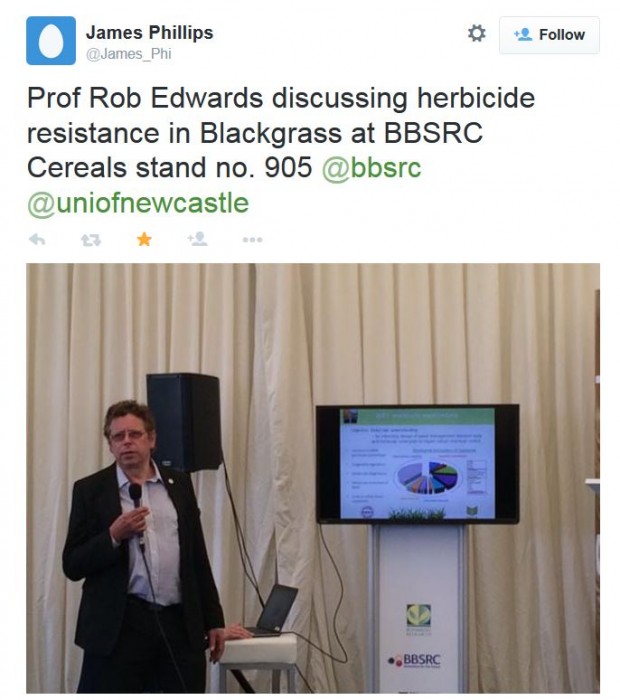 A number of people have been visiting UKTI agritech specialists in the international business centre at Cereals to explore export opportunities. UKTI agritech expert Luis Mulet has been discussing with visitors potential opportunities to export to Ukraine.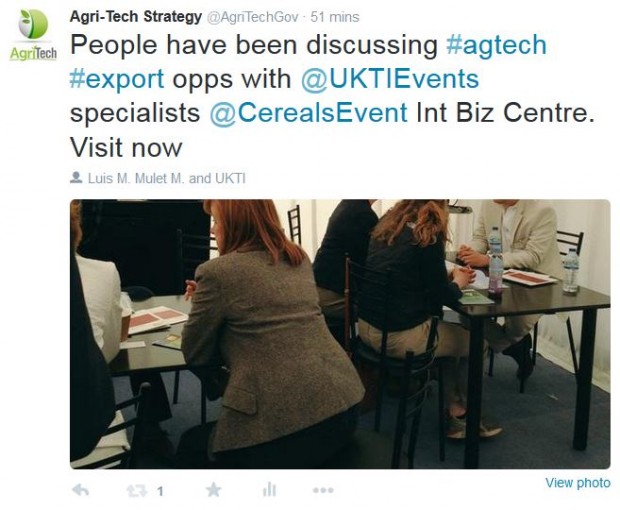 It was standing room only to hear BBSRC CEO Jackie Hunter speak at Stand 905. Jackie explained the role of BBSRC as the largest public funder of food and farming research in the UK. She spoke on how research undertaken with BBSRC funding underpins agriculture in the UK.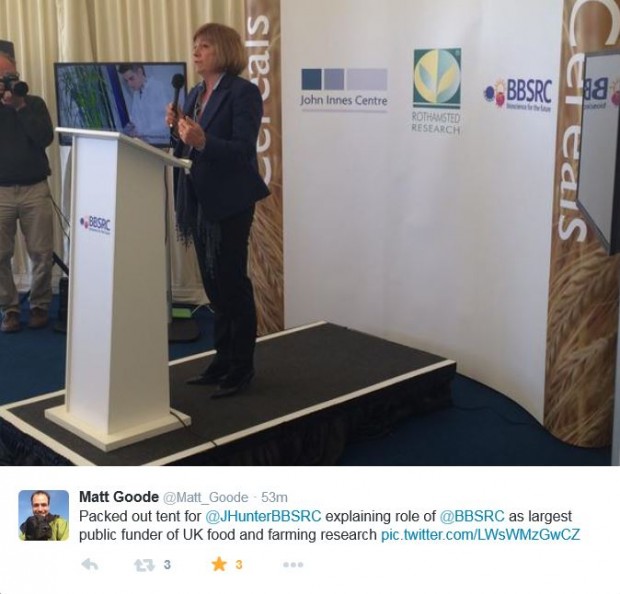 Ursula Agriculture were showcasing their drone technology for agriculture. URSULA Agriculture is involved in two projects funded by the Agri-Tech Catalyst and Innovate UK. The first project is lead by PepsiCo International Ltd and will use Unmanned Aerial Systems (UAS) to provide farmers with better data to manage oat production. The second project will use UAS data as a potential detection tool to prevent and manage root and foliar diseases affecting potato crops. Find out more about the Agri-tech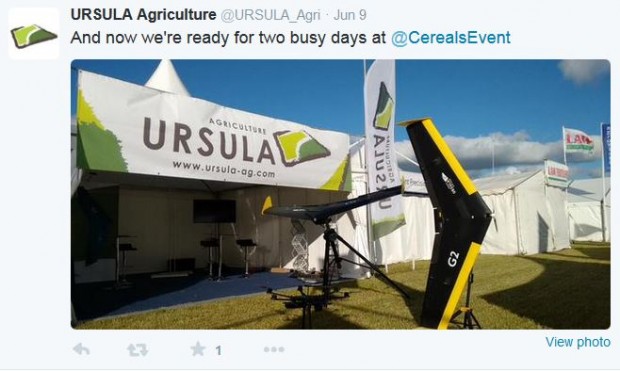 Thursday 11th June
This morning at Cereals, BBSRC hosted a science breakfast meeting where farmers, breeders, agronomists and others were updated on the latest agricultural science tackling farmer-relevant problems.
The event was hosted by Guy Gagen, NFU's Head of Arable. Speakers from Rothamsted Research, John Innes Centre and the Soil Association covered topics from black-grass and crop protection to fusarium and brassica improvement.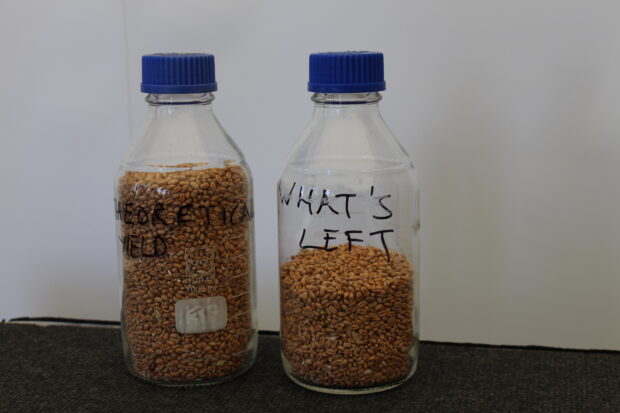 UKTI specialist Clive Backer joined other speakers at the Arable conference to discuss the role of precision agriculture in achieving yield potential.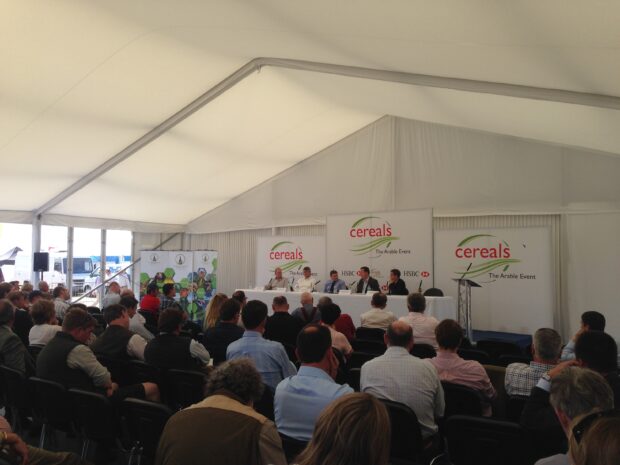 The Rothamsted Research octocopter was on display at the BBSRC stand. The octocopter will enable high-throughput collection of data from experimental crop plots.  This data will give unique perspectives on crop growth and plant functioning, and will vastly extend capabilities for screening crops of different genetic background for performance, nutrition, stress, pathogen and disease responses. Find out more about the octocoper.
Luis Mulet from UKTI met with UK Company Micromix Plant Health to discuss potential export opportunities. Micromix won £100,000 of funding from round 4 of the Smart Awards run by Innovate UK. With the 'proof of concept' grant Micromix will investigate their new biostimulant technology that reduces abiotic stress in plants caused bt adverse heat and moisture conditions. Find out more about Innovate Smart Awards.