"The biggest intervention people could make towards reducing their carbon footprints would not be to abandon cars, but to eat significantly less red meat". These were the words of Professor Benton from the University of Leeds - and until recently champion of the UK Global Food Security Programme - in light of a 2014 US study that assessed how much land, water and nitrogen fertiliser was required to raise different kinds of produce, including beef, chicken, pork, eggs, and dairy. The same study also estimated that producing beef resulted in five times more climate-warming emissions than pork or chicken.
According to DECC's  Low Carbon Transition plan (2009), UK agriculture produces  7% of the UK's carbon emissions, with livestock production responsible for an estimated 5%. A publication from the United Nations (FAO, Tackling climate change through livestock – 2013) suggested global emissions from livestock made up around 14.5% of all carbon emissions.
But red meat is here to stay: trends show rises in consumption in developed countries, and there is a correlation between meat consumption and prosperity in developing countries. This is an illustration of the sort of challenges in food production that science is trying to address.
Projects like the Net Feed Efficiency (NFE) based on Givendale farm in East Yorkshire and run by the Beef Improvement Group are contributing to finding a solution. Funded by Innovate UK, the NFE project is designed to improve feed use efficiency in beef production for economic benefit to the farmer and at the same time reduce Greenhouse Gas (GHG) emissions. The challenge is to identify cattle that eat less feed but grow at the same rate as their contemporaries.
I visited the farm recently as part of the Agri-Innovation Conference that took place at the end of February in York. Givendale farm looks pretty much the same as any other East Yorkshire cattle farm, but it hosts a ground-breaking test facility ( the feed evaluation unit) to measure individual feed intake and live weight gain in young breeding Stabiliser bull and steers. The Stabiliser breed is  a hybrid of traditional British and maternal Continental breeds whose attributes of includes calving ease, good fertility and high eating quality beef. At the unit, each individual meal is recorded for each individual animal for a period of 12 weeks. All data is sent through a wireless link from feed bunker panels in the unit to a computer in a nearby office. Analysis of dataset derives NFE values for individual animals that allow a selection of future breeding stock. The feed evaluation unit houses 80 animals for each test batch and has 3 batches per year. Over 1,000 breeding Stabiliser breed bulls and steers have been assessed during the 5 year grant period between 2011 and 2016.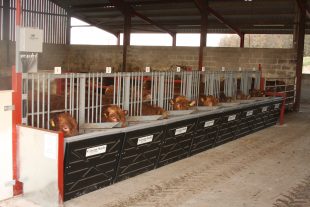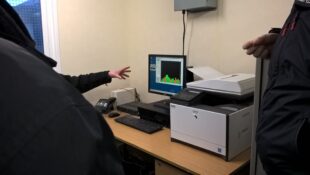 Initial results are promising: £23/head feed cost saving has been found over a 12 week feeding period between the average of most efficient third and the average of least efficient beef cattle. Low NFE beef cattle ( those in the most efficient third) produced around 15% less methane emissions than the high NFE cattle and this was achieved without changes in animals' performance and the quality of the beef produced. And the NFE trait is 34% heritable so cattle selected for NFE will breed more efficient cattle. A win-win for farmers and the environment!
If you want to know more about this project visit www.bigbeef.co.uk
The Stabiliser pedigree standards include quality control such as meeting traceability, animal welfare and environmental management.