When I found out that I would be working in the agri-tech team, my first thought was… "What is agri-tech?" I had managed to figure out that it was short for agricultural technology, but that was about as far as my general knowledge took me.
A quick Google search returned some amazing results which really opened my eyes to how advanced and varied agri-tech really is. From robotics to improving crop yields, there were pages and pages of "techy" science all relating to agriculture which I had absolutely no idea about. I mean... why would the ordinary person know about all these various wonderful projects.
So it got me thinking; how much does agri-tech play a part in our everyday lives without many of us even realising it?
When I'm having my healthy breakfast - porridge with honey - I wouldn't think about the processes and the technology that goes along with it. However, you would be surprised as to the depth of research that goes into ensuring that our food is safe to eat and as efficiently produced as possible.
Since joining the team, I have learnt that the UK Agri-tech Strategy has so far supported around 120 Agri-tech Catalyst projects.
These can relate to:
primary crop and livestock production, including aquaculture
non-food uses of crops including ornamentals (for example, for biomass)
food security and nutrition challenges in international development
challenges in downstream food processing, provided the solution lies in primary production
The funded projects so far have ranged from harnessing friendly fungi to protect grain from insect pests, to ensuring better animal welfare for chickens, and everything in between! The Agri-tech Catalyst is currently open for applications and you can find out more information about this opportunity here.
So, when eating my morning snack of chocolate, the thought of the Agri-tech Catalyst projects does now spring to mind. Without cocoa there is no chocolate and without the next farming generation, there is no cocoa. Could you imagine that? Well worry not, as one of the recently funded Catalyst projects is aiming to help ensure the future of the supply chain of cocoa by leading a project to transform the way that cocoa is grown. There is also a project which aims to protect the UK cocoa supply by developing a diagnostic test for Cacao Swollen Shoot Virus – the main disease responsible for declining cocoa yields. You can see a schematic of the project below: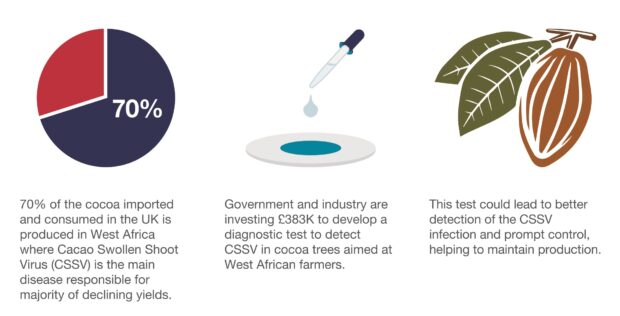 Now there's some food for thought! Perhaps we should all be thinking more about the way that agri-tech plays its part in our everyday lives.