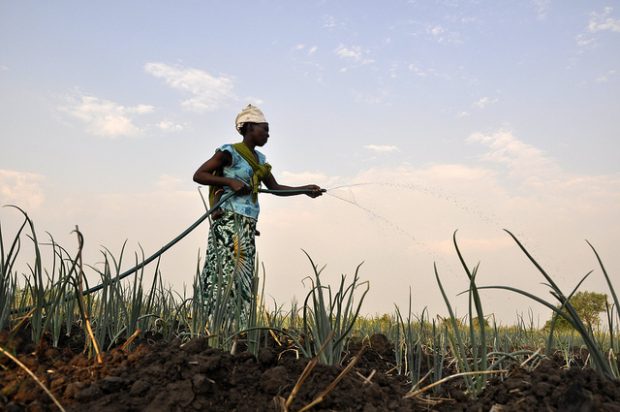 If you read our blog post "Everyday Agri-tech", you'll know that research on cocoa is very important for your chocolatey mid-morning snack. A chocolate bar is a good way to see how important agriculture around the world is to us in the UK. Take a Kit Kat: it contains cocoa from Africa, milk products from the UK and New Zealand, palm oil from Asia, sugar from South America and wheat from Europe. This shows how interconnected agriculture and food systems are.
UK food security is dependent on food production around the world as we import over 39% of our food, although this figure falls to 25% for food that we can grow in the UK. Next time you're in the supermarket, look at where your fruit comes from. You could find that your oranges have come from South Africa and your grapes from India.
At the Department for International Development we invest in agricultural research to support food security and economic development in developing countries and there are excellent opportunities for UK academics and companies to contribute to economic development and global food security.
Round 6 of the Agri-Tech Catalyst targets funding at academic/business collaborations to generate new innovations for developing country agriculture. The Catalyst is a great example targeted development funding that can deliver benefits for agriculture in developing countries and for the UK, whether for consumers or companies. Not only are we supporting farmers and companies who supply food to the UK, but through this support individuals and companies in developing countries are able to increase their incomes, build their capacity and contribute to the development of their agriculture sector.
Round 6 of the Agri-Tech Catalyst is now open for applications and unlike earlier rounds, this time it's focusing exclusively on international development relevant projects. In previous rounds we've seen a wide range of applications covering everything from salinity sensors for shrimp farmers in Bangladesh, to biopesticides from fungi, to new wheat varieties resistant to aphids.
The diversity of applications shows how diverse the work of agriculture is. If you have an innovation which you think has the potential to benefit agriculture in developing countries I encourage you to apply. You can get support to develop you application from the Knowledge Transfer Network.
The Catalyst is one of a number of programmes we support to get agricultural innovation to farmers in developing countries. Others include AgResults, the African Agricultural Technology Foundation, the Global Alliance for Livestock Veterinary Medicines and Harvest Plus.
Subscribe to the blog to get updates when we next post, and don't forget to comment below.