The agriculture sector is undergoing major changes in the way it produces our food in the UK, and across the world. An overused, but important, forecast is that by 2050 60 per cent more food will need to be produced for the world's population. A host of new technologies from unmanned aerial systems (UAS) to agricultural 'big data' have the potential to ensure the production of enough food while addressing the problems of land degradation, water shortage, and climate change. The Agri-tech Catalyst funding scheme helps businesses and researchers commercialise their research and develop innovative solutions to global challenges in the agri-tech sector. This blog highlights a number of Agri-tech Catalyst projects in the precision agriculture area.
Big Data
Huge and varied datasets amassed to form 'big data' can be analysed by computers to reveal patterns in real world interactions.
The Soil-for-life Beta project led by Produce World Group (one of the UK's largest fresh produce businesses) is focused on collating and mining the 'big data' that exists within the supply chain and farm systems e.g. such as soil analyses, crop rotations, and fertiliser records, and integrating these datasets into an aggregated data holding. The aggregation, analysis, and interpretation of this kind of data could ultimately be used by producers to understand and manage the drivers behind their farm system performance.
Find out more about Soil-for-life Beta.
Agri-tech experts across industry explore the potential of using big data in agriculture.
Robotic Farming
Professor Simon Blackmore Head of Engineering at Harper Adams University has said:
Agricultural robotics are now being developed in the UK to drive tractors, kill weeds with lasers to avoid using chemicals, pick and grade strawberries, mow grass, scout for pests, weeds and diseases (both aerial and ground based) and plant seeds. This new wave of smart machines will revolutionise the way in which we grow crops in the future by using intelligently targeted inputs.
The project below funded by the Agri-tech Catalyst is part of this new wave of smart machines that could revolutionise the way we grow crops.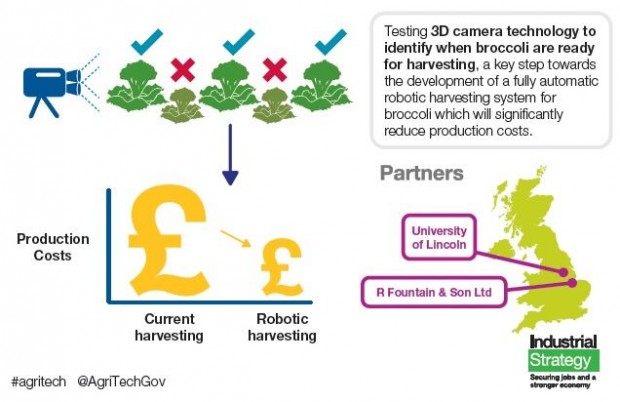 Unmanned Aerial Systems - drones

This interesting video from Sensefly explores the potential applications of using UAS in agriculture.
A project led by PepsiCo – makers of Quaker Oats – will provide UK oat producers with world leading agronomic 'tools'. The project will develop tools that will turn data from UAS into data measurements to enable growers to optimise yield and quality across fields. The measurements can then be fed into an Oat Crop Model that can act as a guide for growers to decide what will achieve the best results for their crop.
These innovative tools could increase average yields by at least 1 tonne per hectare (approximately a £15 million uplift per annum in output from the existing oat land base), whilst contributing to sustainable intensification, and reducing imports.
Find out more about how you can apply for the Agri-tech Catalyst.