Last week I formed part of a UK delegation to France to explore their systems for agriculture and innovation. Within the Agri-Tech team we had already developed an overview of how the French systems operate and felt that there would be significant value in exploring this further and seeing examples first-hand. We have come back to the UK with a huge amount of information and numerous ideas for our own Agri-Tech Strategy.
Our two day visit consisted of a packed programme of activity, for which we are extremely grateful to our host from INRA, Bernard Esmein, and our British Embassy attaché, Alison McEwan, for arranging. Having arrived the night before, day one began in Rennes where we were welcomed to one of the seventeen Centres of France's National Institute of Agronomic Research (INRA). We learnt about INRA's work on innovation ecosystems for livestock breeding in the West of France and how INRA works with the Agricultural Technical Institutes (ACTA), other research organisations and industry.
We then toured two INRA facilities: firstly, a Milk Technology Platform dedicated to conducting research on milk and dairy products for academic and industrial researchers for product development, innovation and training; and secondly, an Experimental Dairy Production Farm focused on evaluating and developing new technologies and farming practices for livestock (cows and goats). Both provided a chance to see practical examples of how translational research is leading to improvements in the sector.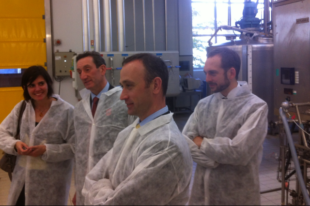 Following these visits we received a presentation on Agri-BALYSE, an environmental database dedicated to producing Life Cycle Inventories of agricultural products to support the environmental optimisation of value chains. This is publicly available and prompted thinking around how the UK's Centre for Agricultural Informatics and Metrics of Sustainability can learn from and use this, as well as similar information from across the world.
From there we were whisked away via train to Paris for a late dinner, hosted by ACTA's Head of International, Adrien Guichaoua, and attended by Sylvain Sturel, International Manager for the Permanent Association of the Chambers of Agriculture (APCA). This was an opportunity to discuss the day's visits and, of course, to sample some excellent French produce.
Whereas the focus of day one had been on livestock, day two concentrated on crops, and began at INRA's Centre in Versailles. We learnt about particular programmes and projects in crop science and INRA's partnership approaches with industry and other research organisations, before visiting a Plant Observatory based on the INRA site. The Observatory is dedicated to the multi-level phenotyping of plants and includes resources for the cultivation of plants under controlled conditions, plant imaging and chemical analysis of compounds.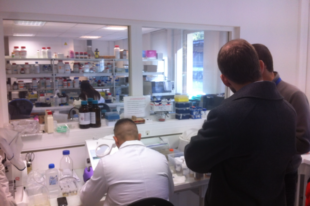 We then travelled to the French Ministry for Agriculture, Agri-food and Forestry (MAAF) where we spent the afternoon hearing from officials and partner organisations about the national approach to growing the sector. Interestingly, the French Government has adopted a similar approach to the UK's Industrial Strategy by dedicating resource to particular sectors viewed as having high growth potential, where funding is targeted at applied research. We were also able to present the UK's Agri-Tech Strategy and discuss a set of questions around how we can use the French experience to ensure our resources are most effectively targeted and that our partnership working is as effective as possible.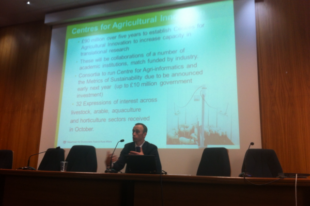 With such a full schedule, it was not until the (delayed) Eurostar home that I had a proper chance to reflect on the huge amount we had seen and learnt. It will take a while to digest and share all the information, but one thing that was striking was the high level of partnership working across the French agricultural sector. We will use this experience in contributing to the establishment of the UK Centres for Agricultural Innovation and in continuing to develop effective networks across the UK sector. I'm looking forward to putting this in to action over the coming months.