Importance of nitrogen fertiliser in wheat production
Nitrogen fertiliser application is the primary input cost in milling wheat production and also accounts for 80% of its carbon footprint.
Milling wheat production requires a higher nitrogen input than feed wheat production as the grain needs to reach a threshold protein content of 13%.
Since protein content is directly related to nitrogen content, the application of nitrogen fertiliser plays an essential role in reaching this 13% target.
In order to reach this target, milling wheat farmers apply an additional foliar nitrogen application (directly onto leaves as opposed to soil) in late June. However, this may not be necessary in all cases. There is therefore a significant opportunity to reduce nitrogen application only to cases that need it, reducing the associated costs and environmental implications.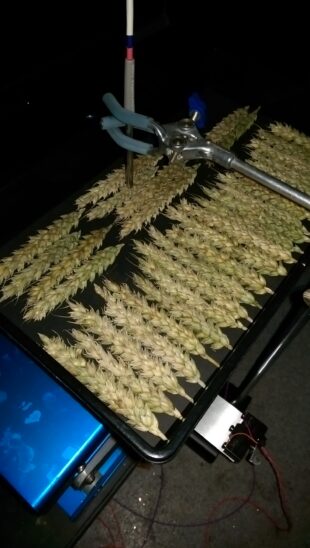 ADAS, in collaboration with Sainsbury's wheat development group and Camgrain, have already been developing methods to predict the final protein content of grain by sampling young wheat ears, and measuring protein content using a laboratory based analysis (using Fourier Transform - Near Infrared spectroscopy).
However, this still requires the collection of samples from the field and transport to the laboratory for the analysis.
The £250k Agri-Tech Catalyst WheatScan project
Following the successful application to the first round of the Agri-Tech Catalyst, the WheatScan project aims to take this analysis method into the field, developing an in-field sensor that can measure the protein content of young wheat ears and providing farmers with an estimate of the final protein content of their grain quickly and without going near a laboratory.
In collaboration with ADAS and Sainsbury's, researchers at the University of Manchester are developing new, non-invasive and non-destructive, technology to sense for young wheat ear protein content in the field, informing the farmer of their crops' current nitrogen status with the aim of identifying whether it needs an additional nitrogen application.
The farmer can then make an informed decision on how much (if any) late nitrogen needs to be applied to their crop, and where it needs to be applied, with the aim of reducing both their costs and the environmental impact of the milling wheat grown for Sainsbury's in store bakeries.
Since the award of £250k from the Agri-Tech Catalyst and industry partners in May 2014 we have been preparing a prototype to conduct in-field measurements. These will be tested in the coming season (June 2015) with results available soon after.
This short video explains more about our project and the partners working together with financial support from the Agri-Tech Catalyst.
Dr Kate Storer, ADAS UK Ltd.