On a boiling day in July, a group of people were staring at a field of wheat in the Norfolk countryside trying to detect subtle differences in height, health and colour. Why, you may ask? Well, a group of us were from the Department for Environment, Food and Rural Affairs (Defra) and visited to hear about the work of the John Innes Centre. The centre works closely with commercial plant breeders to help develop varieties with desirable traits. The differences between one type of wheat and another might mean better disease resistance, adaption to low rainfall conditions or a more stable yield across a range of growing conditions.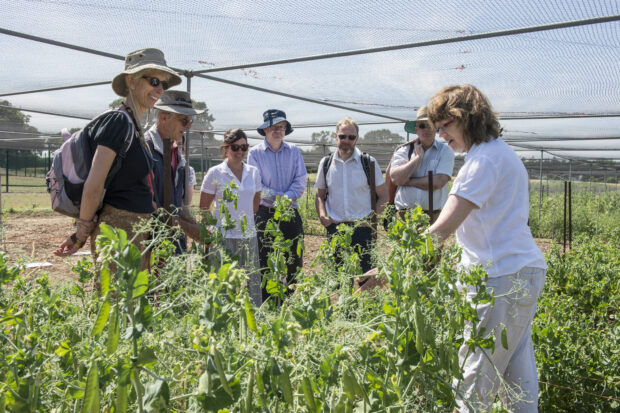 The main reason for our visit was to find out about the work that the centre does through Genetic Improvement Networks (GIN). Defra has funded four projects aimed at producing pre-breeding information and material for the genetic improvement of: oilseed rape (OREGIN), wheat (WGIN) and pulse crops (PCGIN), and leafy veg, carrots and onions (VeGIN).
The projects have brought together, in an unprecedented way, people linked by a common interest in improving the main UK crops. Through the GINs, researchers, breeders and farmers have exchanged expertise, data, analyses and ideas. We heard how the networks have fostered new lines of research which have been funded by Defra's former LINK programmes, the Sustainable Agriculture and Food Innovation Platform, BBSRC Crop Clubs, Innovate UK and the Agri-tech Strategy.
Outputs from the research funded include mapping populations and identifying new traits, genome sequencing, use of bioinformatics to provide a deeper understanding of the crops' complex genomes and marker-assisted selection of promising genetic material, which can be used by all plant breeders.
The networks also provide training for the next generation of scientists in an environment which combines industry and academia, which is vital to maintain/build capacity and to keep the applied research innovation pipeline flowing.
Probably the most striking display we saw during our visit was a visual representation of the genetic diversity within peas. Just before we left we visited the cool store where the centre banks many of the seeds it holds. The temperature was about 25oC lower than outside.
The visit demonstrated the breadth of government support for innovation in agriculture. Alongside the Agri-tech Strategy and others, the GINs are fundamental to innovation because they speed up and focus plant breeding. This is then taken forward by commercial breeders and sometimes will foster applications for agri-tech funding.