Just over a week ago, I headed north to Manchester to mark a significant milestone in the long and important story of Syngenta's involvement in the UK.  Syngenta is an agri-tech company – in fact, it is one the world's largest agro-businesses.  It has sales of over $15 billion annually, with over 28,000 staff in 90 countries, and $1.4 billion in R&D – with its largest research site at Jealott's Hill in Berkshire.  It also has major manufacturing sites in Huddersfield and Grangemouth.  Syngenta came into being in 2000, from a long and impressive heritage that includes ICI, Ciba-Geigy, Zeneca, Novartis and many more.
So why Manchester?  Well, for some time the company had been looking to relocate its Global Operations away from its HQ in Basel, Switzerland.  And the UK offered an ideal business environment, though not without competition from other parts of the globe.  However, in July 2015, Syngenta announced that it would open a Global Operations Centre in Didsbury, near Manchester, creating around 200 new jobs – providing in-house services in procurement, planning, logistics, IT and business process management.  And so, on 11th March 2016, the formal opening took place in their relative new premises on the Towers Business Park.
The day itself included an introduction to the business, displays and a short tour of the facilities.  The highlight was the official opening, which was performed by Sir Richard Leese (Leader of Manchester City Council) and Mark Peacock (Syngenta's Head of Global Operations), to an audience of around 250 drawn from all parts of Syngenta's business and a number of its partners. I was asked to say a few opening words about the importance of businesses like Syngenta – which are built on science and innovation as route to dealing with global agri-food supply challenges; I added that choosing Manchester is a great example of the Northern Powerhouse in action – it has a wonderful heritage of academia and industry (it is currently European City of Science) and the choice also points to the ready availability of highly skilled people, and the UK's business environment.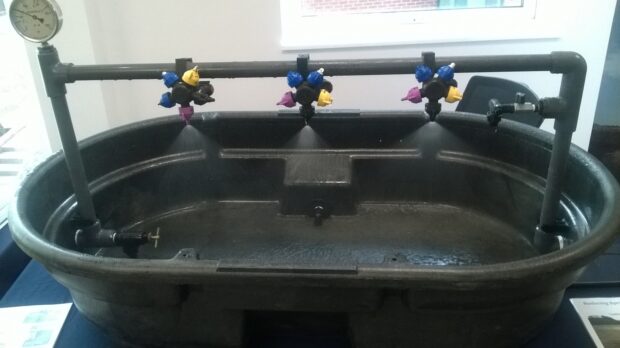 Sir Richard spoke of the strengths of the region and the welcome he had for the company, and talked of the strong industrial base both in Manchester and in other parts of the UK.  Mark provided some of the story behind Syngenta's ambitions and the background to its decision to bring its Global Operations to the UK.  Listening to both, it was clear that there is a wealth of powerful narratives around this company, and no doubt the same could be said for many others who are similarly investing in the UK.  These show the importance of strong links from research and innovation through to commercialisation, and the vital roles people and skills play in creating a successful, world-leading enterprise.  As I headed south, I felt reassured by the ongoing faith placed in the UK by a major global business, and was reminded of the need to nurture our investors and manufacturers at every stage – from research right through to the day-by-day operational issues – but that if we do, then the rewards for the economy and for our society are immense.