Over the summer we have taken a number of major steps forward in establishing the Centres for Agricultural Innovation - at the end of July the prospectus was published, which was swiftly followed by the opening of the outline proposal stage in August. The next few months will be just as exciting as the outline proposals are submitted.
A question I get regularly asked by people from the agri-tech sector and colleagues in government is what will the Centres do?
At a high-level the Centres will significantly increase innovation, build competitiveness and leadership, and encourage investment across the UK agricultural sector. There is further detail of our vision for the Centres in the prospectus document. But in terms of what they will actually do that we don't yet know; and this is intentional. Establishing the Centres is a new collaborative model between the agri-tech sector and government. We have deliberately not stipulated the areas which each Centre will focus – we believe the Centres must be shaped by the food supply chain and agricultural industry. We do however, have some early indications…
Innovate UK, our partners in establishing these Centres, hosted a briefing event on 4 September. Over 120 people, from industry and academia, attended the event to hear presentations and quiz BIS, Innovate UK, and the Agri-Tech Leadership Council on the establishment process. One of my highlights of the day was an elevator pitch where the attendees outlined their idea for a Centre. You can see a summary of the themes from the pitches below, it gives us a tantalising glimpse into what sort of Centres the sector may propose!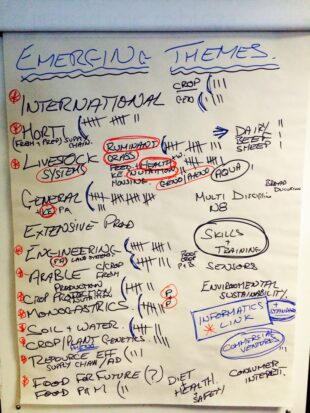 Which neatly brings me on to what happens next? Right now (I hope) outline proposals are being prepared by consortia of businesses and academia, and individual businesses which have great ideas, or expertise, but haven't yet found the right consortia partners. These outline proposals need to be submitted to Innovate UK by noon on Wednesday, 15 October 2014. Following expert assessment, the second stage will begin with a facilitation process to support the formation of full consortia from shortlisted outline proposals. These consortia will be asked to submit full proposals to establish and run a Centre. The table below outlines the process in a little more detail.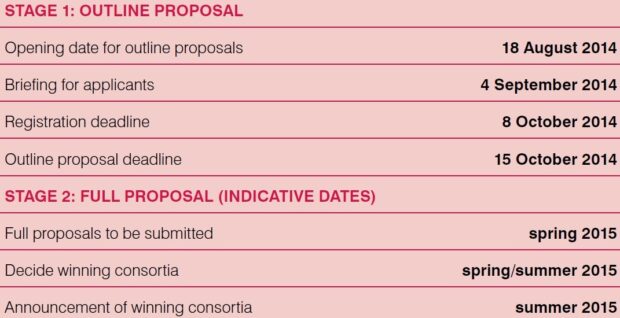 The next few months are going to be tremendously exciting for the agricultural industry. The Centres really are our chance to deliver long lasting game changing innovation. Driving collaboration that tackles the issues that no one part of the sector can address alone, and establishing new networks, perhaps even with 'competitors', to work on the grand challenges we are facing.
I am sure we will look back in five years and say when we had our opportunity to deliver a step change in innovation and competiveness for the agricultural sector, we took it.