I recently headed out to the end of the DLR line, past the towers of Canary Wharf to the low rise distribution units of Becton to visit Unit 84 - home of GrowUp Urban Farms, London's first commercial aquaponics urban farming business, and one of the many companies supported by the Agri-tech Catalyst.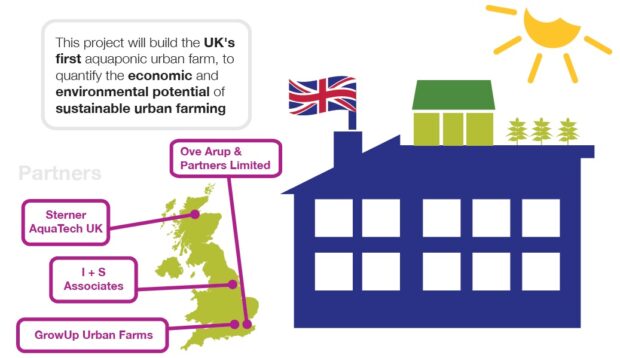 We were greeted by Tom one of the co-founders. The first impression was of a new generation of business savvy social entrepreneurs. And when we went downstairs to see what they had created we were truly amazed.
Their products are lively fresh salads with excellent taste and flavours; Tom kindly sent us home with samples - they didn't last long.
To produce these premium leaves they work with a fish supplier who delivers young fish. The fish swim around the fish tanks feeding and excreting. The nutrient rich water from the fish tanks is continuously pumped through the salad growing racks which are lit by LED lights that mimic sunlight - without pesky clouds intervening! Once the fish grow bigger they are sold to local restaurants and new younger fish released into the tanks.
The whole factory is an excellent example of a circular economy business - nothing is wasted. The water is continuously recycled, they are developing revenue streams from the solid excrement waste, the building utilises free cooling using the skills of expert building services engineers, and the deliveries of salads and fish to customers in London is by electric vehicle.
Tom also gave us some fascinating insights into how they have been nimble, pivoting the business based on the evolution of the technology and in response to customer needs. They are also helping develop local skills - employing under 24 year olds, some of whom had never been employed, taught them new skills, and now provide them with a regular income.
GrowUp Urban Farms have picked up that there are more and more empty distribution units on the outskirts of cities as more modern 'just in time' order fulfilment has reduced the need for these storage facilities. Maybe in future we'll see more urban farms, utilising these former distribution units on city fringes, supplying high value produce to our thriving cities.