It is well known that the UK has an amazing research and innovation history. Right now in our universities and companies discoveries are being made that could have a major impact on society and the economy. However, it's not an easy process to get that discovery from the laboratory to a product we can all buy. Often these inventions get stuck in what has been coined the 'valley of death'.
The valley of death describes the point where a business, often a technology based business, has a working prototype for a product or service that has not yet been developed enough to earn money through commercial sales. The company needs to find sufficient money to develop the prototype until it can generate sufficient cash, through sales to customers, that would allow it to be self-sufficient and grow.

House of Commons Science and Technology Committee - Bridging the valley of death: improving the commercialisation of research
Innovate UK run funding competitions to help the research or discovery along the difficult path to commercialisation. These competitions are open to UK based companies. Some are also open to research organisations working with business. The typical range of projects supported by Innovate UK is shown in Figure 1.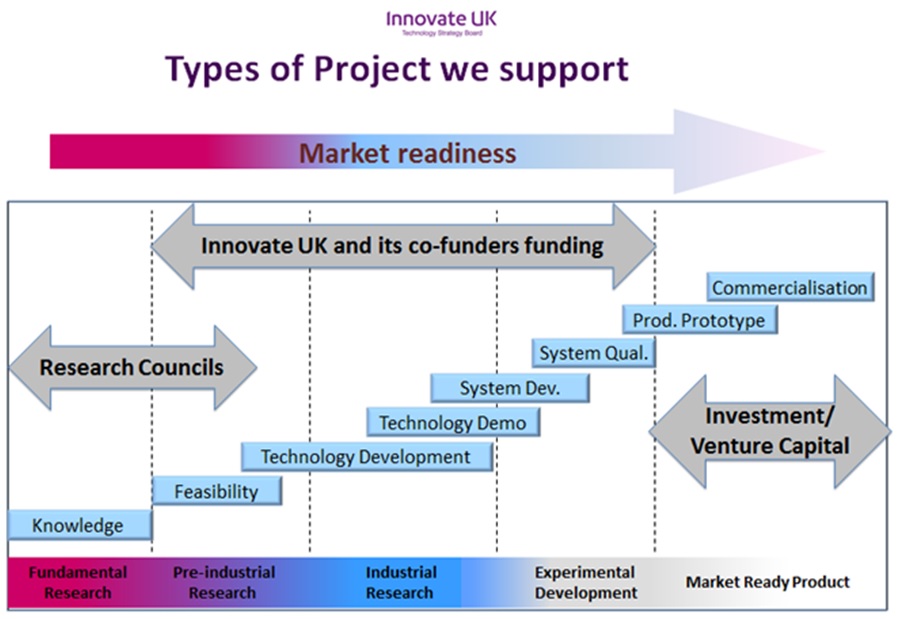 One of the competitions in the agriculture area is the Agri-tech Catalyst. This funding scheme helps businesses and researchers commercialise their research and develop innovative solutions to global challenges in the agri-tech sector.
The scheme will help to take innovations all the way from research to as close to commercial viability as possible, awarding grants for:
early-stage feasibility studies
industrial research
late-stage experimental development
Dina has been following a number of Agri-tech Catalyst projects to look at how our support is helping turn ideas into products or services ready for market.  One of these projects is aiming to develop technology to fast track the aquaculture potential for the European Lobster.
Early-Stage Project
Global demand for seafood is set to rise 8% over the next decade. High profit margins, combined with a significant supply deficit, make the European Lobster a promising candidate species that could boost the UK economy and create jobs.
Securing Agri-tech catalyst funding has allowed the National Lobster Hatchery to bring together a multidisciplinary consortium of partners with skills and expertise from varied background which has bought a novel concept one step closer to reality. Europe is rapidly falling behind the rest of the world when it comes to growing its own seafood and this project is vital in addressing that imbalance.  A key component is that lobsters will be grown in systems with no artificial feed inputs. This means that some of the broader sustainability issues sometimes associated with aquaculture (i.e. feeding farmed fish on wild caught fish) do not apply.  In a nutshell we are assessing whether it is possible to grow one of the most valuable species (by weight) of seafood in the UK, using similar approaches to those used to grow low value species (such as mussels), in passive, environmentally friendly systems.

Project lead Dr Carly Daniels, National Lobster Hatchery
The consortium (The National Lobster Hatchery, CEFAS, Falmouth University, Fusion Marine Limited, University of Exeter, West Country Mussels of Fowey Limited) has applied their specialist skills to develop a rearing system, based on a low impact aquaculture, requiring no feed inputs. Having developed a prototype with the support of Catalyst funding, the consortium are one step close to commercialisation and are now undertaking a three year pilot farm scale study. This study will provide a detailed economic, environmental and social assessment.
Have you got an agricultural innovation waiting to be commercialised?
If you are interested in taking your agricultural innovation one step closer to market, Round 5 of the Agri-tech Catalyst is currently open for a few more days; registrations close on 13th January 2016. Please visit our Catalyst webpage for more information and apply!