I have now updated our Agri-tech Catalyst map to include details and locations for all of the Catalyst projects funded so far, including the most recent Round 4 projects.
You can click here to view the map – the projects are divided into Aquaculture (in blue), Crops (in green), Livestock (in red), and Precision Agriculture (in yellow). Click on a pin to find a description of each project and a list of the partner organisations involved.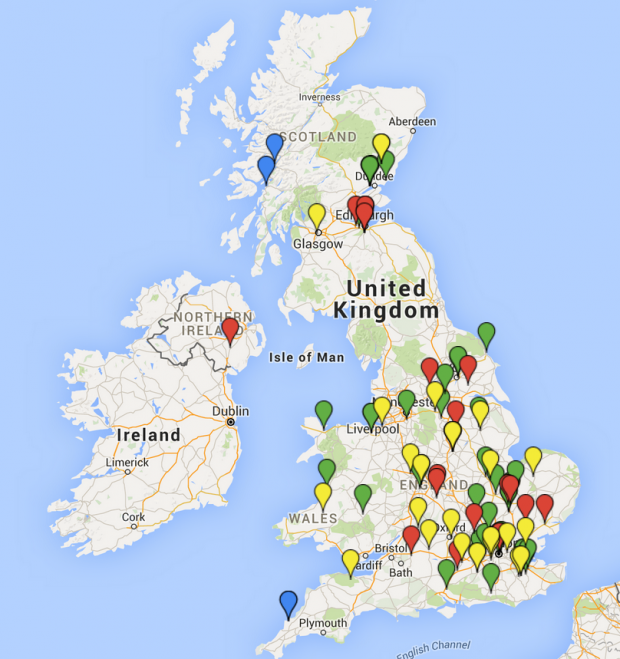 The Agri-tech Catalyst helps businesses and researchers commercialise their research and develop innovative solutions to global challenges in the agri-tech sector.
There are now 98 Catalyst projects across the length and breadth of the UK, from Cornwall to the Scottish Highlands. These were selected through a competitive process run by Innovate UK, with £70 million of funding from the Department for Business, Innovation and Skills, the Department for International Development and the Biotechnology and Biological Sciences Research Council (BBSRC). This investment is helping to make the UK a world leader in agricultural technology, innovation and sustainability.
A few of the highlights from Round 4 of the Agri-tech Catalyst include a project exploring the viability of a vertical growing system in commercial farming with a forecast yield increase of 2.5% to 3.5%, a project looking at improving female fertility and calf survival in the UK beef industry, and a project developing a range of novel, third-generation, greenhouse film cladding materials.
For more information on the projects funded in Round 4, please follow this link to our GOV.UK announcement.
Applications for Round 5 of the Agri-tech Catalyst recently closed, and the winners will be announced later in the year.